Our aim is to bring music closer
The act of listening to music is one of life's simple pleasures, an escapist diversion from the often mundane aspects of our busy daily lives. A chance to let the imagination takeover and the senses be entertained by a variety of rich musical tapestries. With this in mind, JAVA has designed a six-strong range of amplifiers that deeply immerse the listener into the music they love.
"

Whether listening to violins, piano, or acoustic guitar, there is a sense of rightness that allows your brain to disengage from analysis and fall into the music.

"
Pre-Amplifiers
Activated by light, JAVA Hi-Fi's range of passive pre-amplifiers employ light dependent resistor (LDR) technology in a unique circuit design. By varying the current to alter the intensity of an internal LED, which in turn varies resistance to adjust the volume level, our LDR pre-amps provide the cleanest possible path for the delicate audio signal and deliver exceptional sound quality. Available in Single Shot (RCA single-ended) or Double Shot (XLR fully balanced) strengths, the JAVA LDR Pre-Amplifier is a sonic revelation. Pure music to the ears.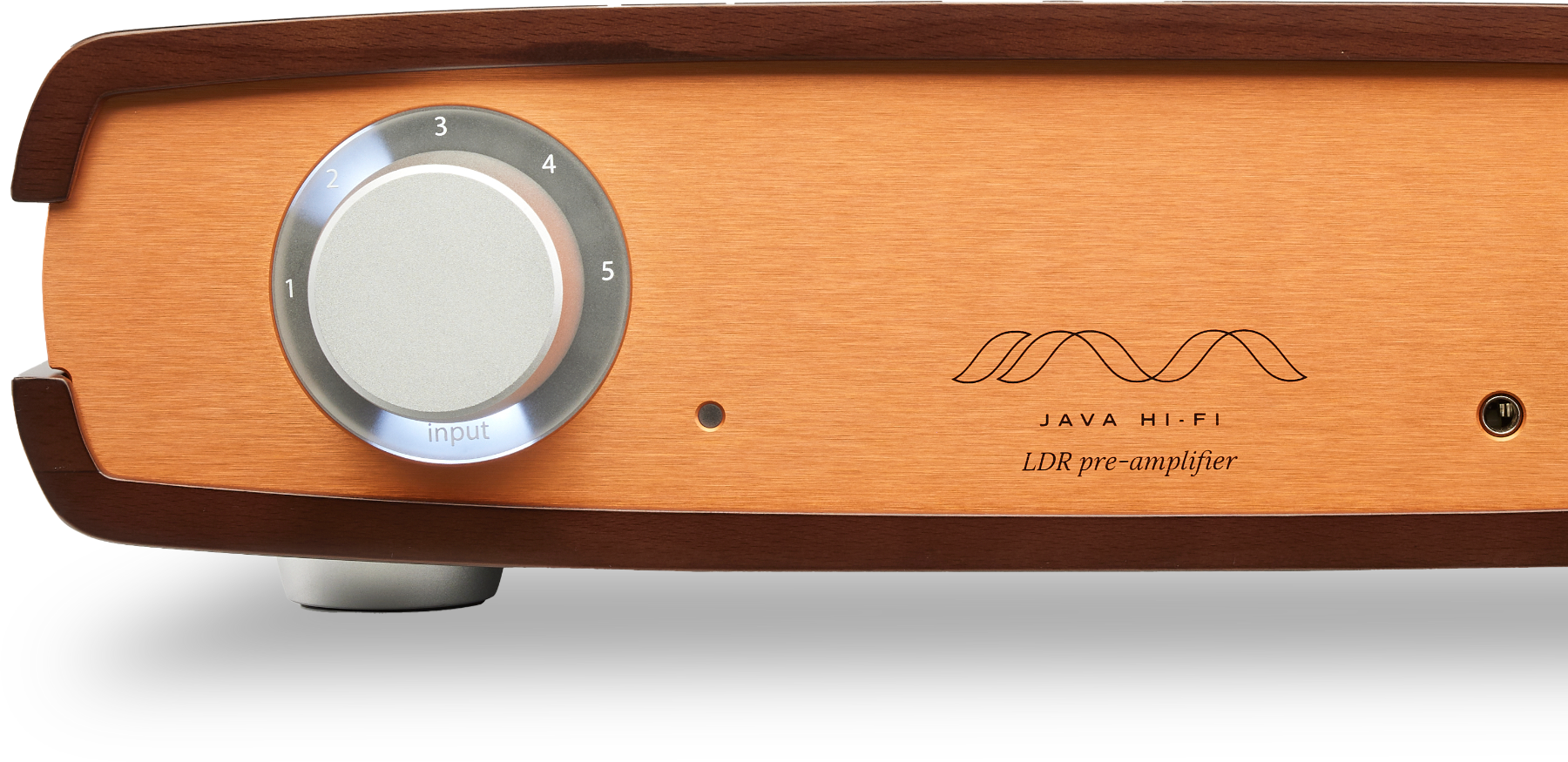 Power Amplifiers
The powerhouses of the JAVA Hi-Fi range, our GaN FET Stereo Power Amplifiers deliver crystal clear sound, explosive dynamics and a rich, life-like tonal palette. With vanishingly low intermodulation distortion (IMD) and total harmonic distortion (THD), the next-generation Gallium Nitride (GaN FET) amplifier modules at the heart of our power amps offer both authority and finesse, providing a great leap forward for Class D sound. The Single Shot power amp outputs 200 watts/8 ohms per channel, while the Double Shot variation delivers 400 watts/8 ohms per channel.
Integrated Amplifiers
JAVA Hi-Fi breakthrough technologies come together to stunning effect in our range of integrated amplifiers. Combining an LDR pre-amp stage with GaN FET amplifier modules, these fully-featured amps include line level inputs, a hi-res USB DAC, MM phono stage, Bluetooth aptX connectivity and more. An elegant one-box solution that will meet all of your audio needs, JAVA integrated amplifiers are available in Single Shot (200 watts/8 ohms per channel) and Double Shot (400 watts/8 ohms per channel) configurations.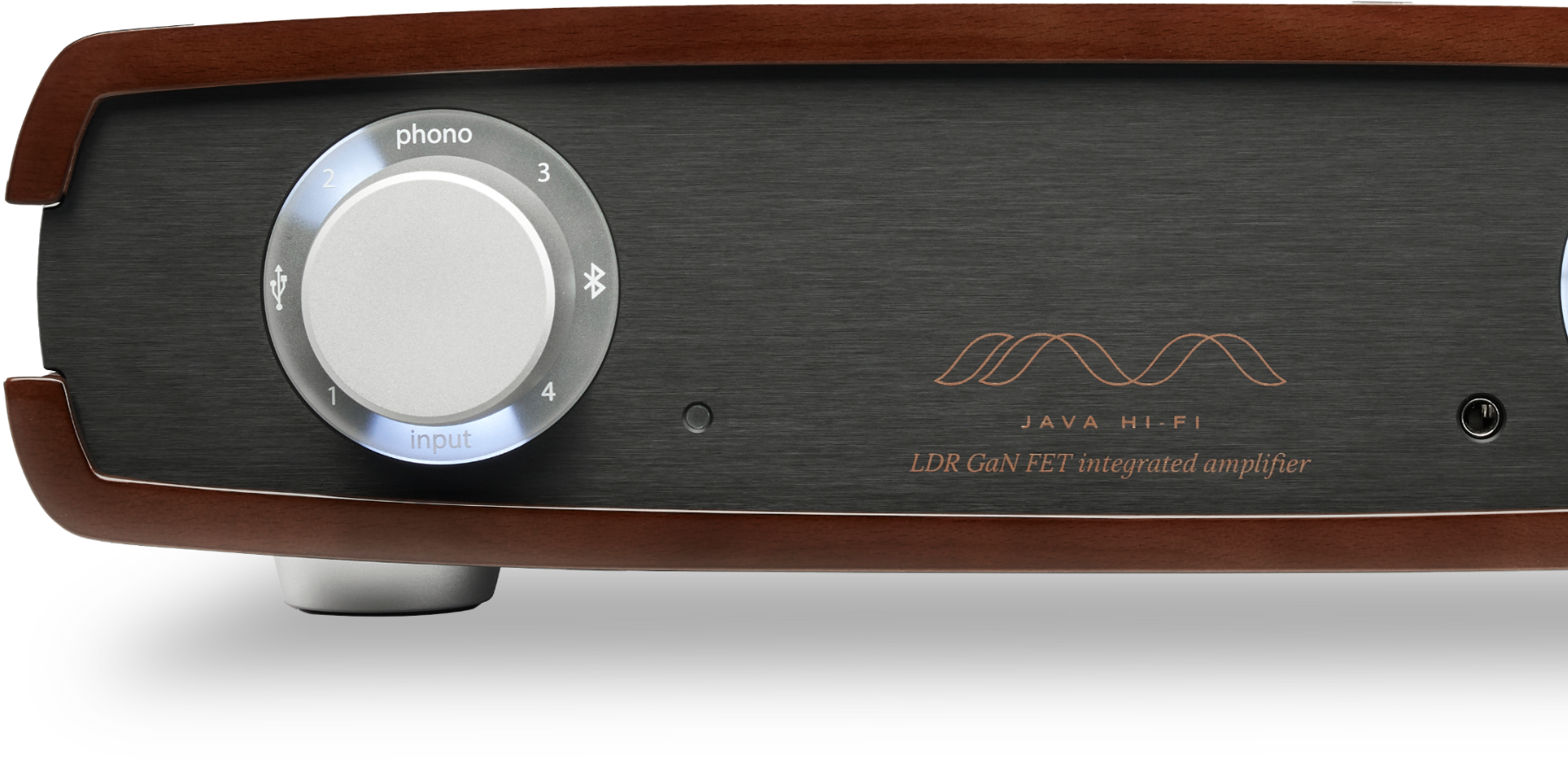 The music is beautiful
The JAVA Hi-Fi amplifier range is designed to reproduce music with extraordinary realism. Our innovative technology and premium componentry works in harmony to reveal subtle new details in familiar pieces of music. Music flows effortlessly from your speakers in its purest form, enveloping the listener in an immersive soundstage that takes you directly to the heart of the performance – to the simple moment when the music becomes beautiful.
"Smooth, smooth, smooth. Smooth and tonally correct in a way that if no one told you this was a Class D amplifier, you wouldn't ask the question. Should you be looking for a great two channel music system anchor, I can't suggest the JAVA highly enough "
The JAVA Configurator allows you to design your own bespoke amplifier to create an audio component that complements your personal design preferences and listening space. Choose from silver, copper or black front panel finishes and eight different real wood outer casework options. Use the JAVA configurator to bring your own bespoke JAVA amplifier to life.